So you're trying to pick a photo shoot location but worried about rainy days, frigid cold, or a tropical heat wave? Indoor photoshoot locations to save the day! Now Indoor locations can be a little tricky because you need a photographer that can handle their own lighting if the space isn't well lit.
 Also you have to get permission sometimes. Most small mom and pop or public places are fine with shooting especially if the photographer can be discrete and not obnoxiously in the way with giant light stands and Umbrellas. 
I would bring an assistant with a small handheld light to get a photo of you snuggling up in a booth at your favorite bar for instance, and usually the bartender would be more than happy to oblige. 
You can always get permission beforehand if its a must have location or you can politely ask when you show up dressed all cute and more likely get a yes in person. If it's a location that's less inclined to say yes you can always take a few photos until you get asked to quit, apologize and then go to the backup location nearby. 
If your ok with the few extra steps of getting permission, than an indoor location can be awesome. Here are some ideas of indoor photography  locations you can find anywhere as well as a few specific atlanta indoor locations. 
Home photo shoots
Photo shoots even in a humble home can make for amazing intimate and personal photographs. It is a great way to make the portraits more personal to you. A family portrait on the front porch can be an excellent way to capture your family. A couple that loves to cook together can make fun candids in the kitchen, or snuggling up on your favorite couch with a glass of wine can make some great personal engagement photos.  If you also have a place with lots of natural light than you are really set up for a great shoot. 
Hotel rooms or AirBnB's
Don't LOVE your home space or want something a little more upscale? Downtown upscale hotels and Airbnb condos, lake houses, and homes often have amazing interior decor that can lend to awesome photo backgrounds with some creativity and variety. You'd be amazed how much you can make with a nicely decorated hotel room. A larger Airbnb is even better as you often have even more to work with if you rent a whole house for a day. The plus side is you can make it into a fun date night with a fancy downtown hotel room, or a weekend getaway with the family to a beautiful lake house when portraits are finished. 
Often hotel lobby's are amazing for photo locations but they are usually very strict on no photography. So if you rent a hotel room you might get permission or you can get 90 percent of your photos in the room and then take one or two in the best part of the lobby before they make you stop.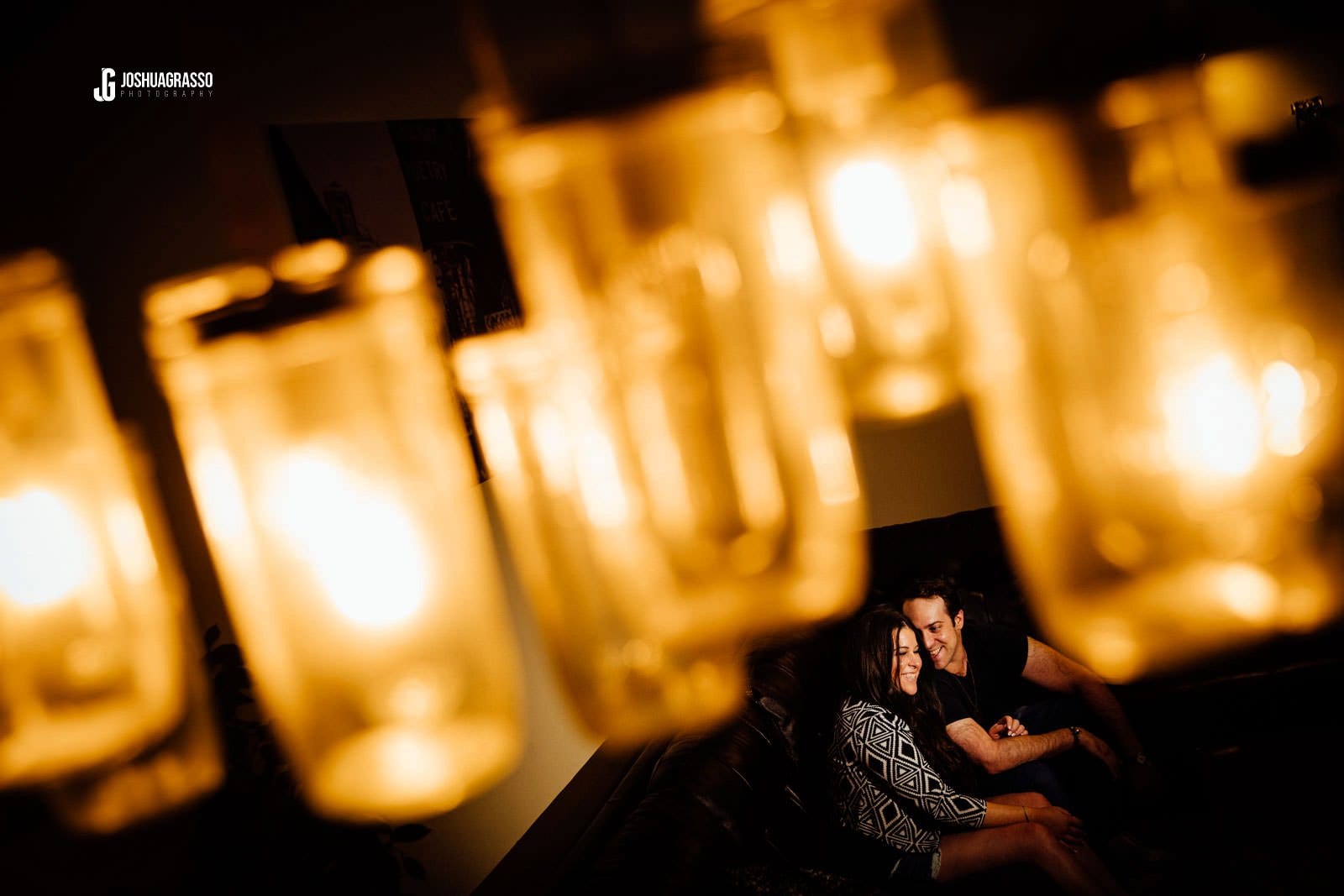 Your favorite bar
Bars and restaurants often have a fun dark and moody vibe that pairs well with some quality photography lighting skills to make some beautiful photos. It also lends to the casual date night feel as well. Many local bars are pretty good about saying yes more so than a big corporate chain. Do you have a favorite hangout? That is also a great way to add to your story. If you have a hot bar scene in your area then having a block of cool bars is great so you can get some variety or have backup plans in case one says no. Plus the street makes for some nice photos as well.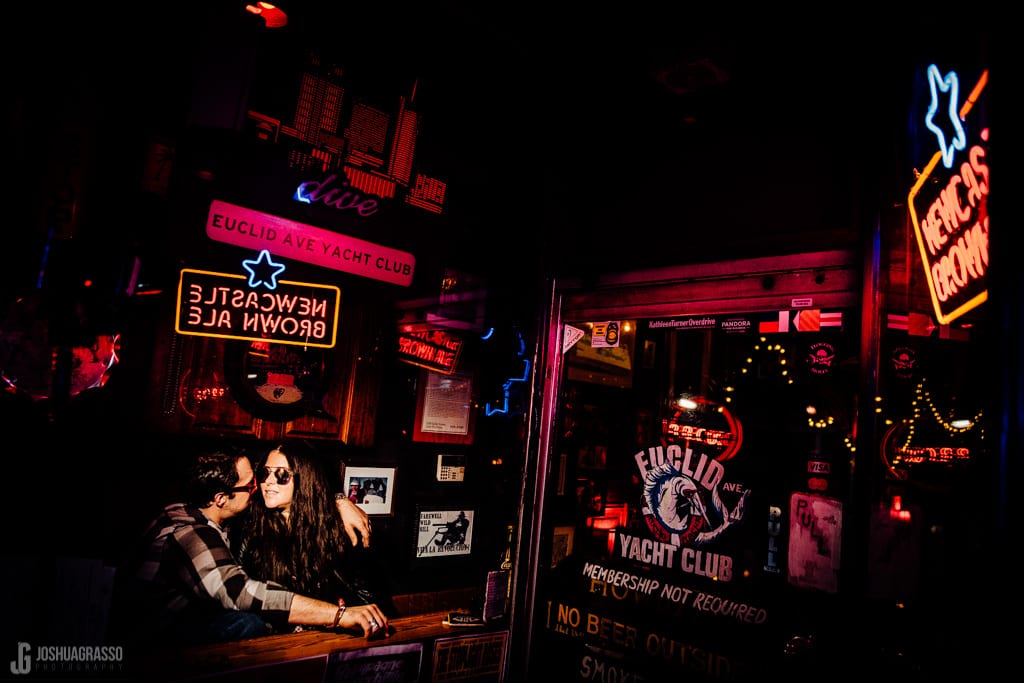 Wineries and breweries
North georgia is home to many great wineries like montaluce and accent cellars, and downtown atlanta has sweetwater brewery and monday night. Breweries and wineries both have awesome vibes, beautiful aesthetics, and a fun date night element for your photo shoot. Wineries are great if you want it more upscale, while breweries have more of an industrial grunge and relaxed fun vibe. You definitely want to ask permission first and some places have special vip access you can pay for for even cooler photos. 
Comic book Shops and Record stores
Do you have a love for star wars or 70's classic rock? Then a comic book store or record shop can make for a fun photo shoot location with some unique backdrops and a fun themed storytelling element as well. It's good to get permission beforehand but if you just showed up and asked to take a few I'm sure it would be hard to say no. If you have a record store in a fun downtown district even better as you can have more than one location to use as well. 
Public Buildings
Usually public buildings are pretty accessible and open to photographing and often have some beautiful space. Even a library especially if you guys are into books could be a great spot. City halls and community centers can be surprisingly  nice as many often have big grand spaces, staircases, art, giant windows, etc. 
Think of activity sessions
Can you think of some fun indoor activities to do together? These can often make for fun quirky locations as well as provide for awesome candid style photos as well. Maybe head to the bowling alley, go axe throwing, or a painting class. 
Coffee Shop
Brighter than a bar and available during the day. Coffee shops make for great casual date day locations. Find a coffee shop in a cool part of town and then you can have additional locations to work with as well!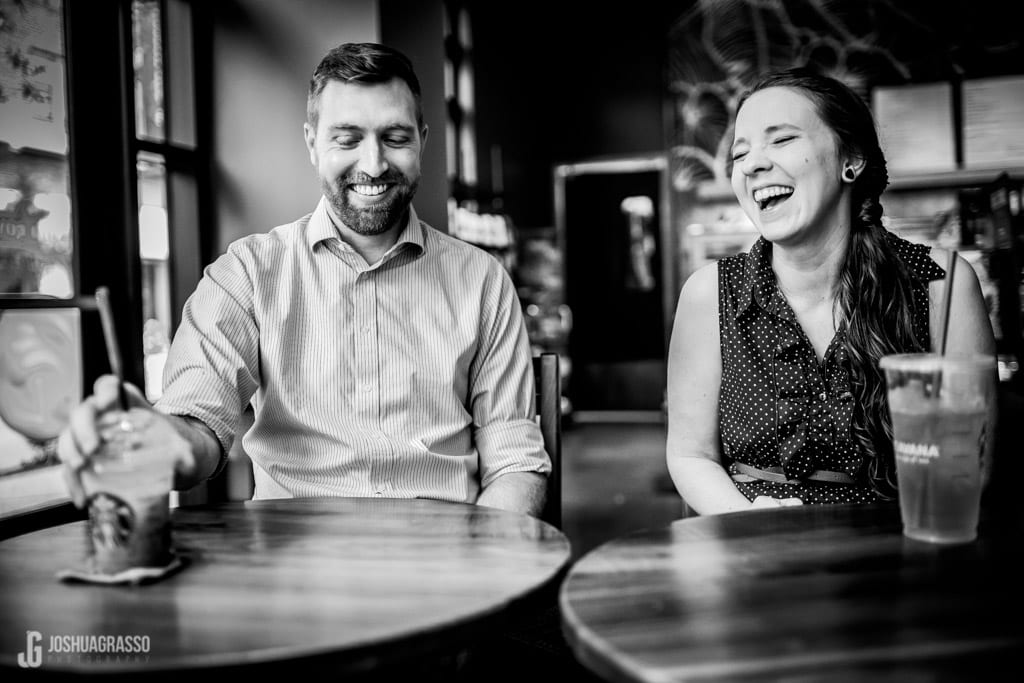 Stadiums
A local sports stadium can be a great indoor/outdoor combo for a portrait session. Something like Mercedes benz stadium in atlanta allows you to have behind the scenes access and you can explore and take photos! An outdoor ballpark would have outdoor space as well as covered spaces under the bleachers or in the walkways.
Other Indoor Location Ideas
Here is a list of other ideas I've thought of that you could investigate further to see if theres a location near you that would give permission. 
Antique shops

Greenhouses

Coffee shops

College campus

Museums and aquariums

Theatres

Train Station

Wedding venues

The Gym

Arcade

Airport

Pool hall

Stores

Casino

Country Club

Neighborhood CLubhouse

Boats

Skating Rink
Examples of Great Indoor Atlanta Photography Locations
Buford Community Center
The Greenhouse at Atlanta botanical gardens.
Indoor Studio Spaces