It's pretty common that brides particularly in late fall weddings are concerned about it being too dark for pictures. While I can't argue that when the natural light is right it can look spectacular, (check out this maternity session all in natural light )  darkness can allow a photographer's true creativity to shine.  Not all photographers can handle the darkness however so make sure you look at their portfolio and blogs for well lit images to see if they are comfortable with and like to use lighting. I bring all the lighting equipment and a lighting assistant to my weddings to make sure i'm always ready. Here are 5 examples of photos that looked even better After the lights went out.
Under the Chandelier
When there is not a lot of great backgrounds, I look up down and all around. I saw this chandelier hanging next to a staircase and put the couple below the light and had my assistant light them with a softbox and warm gel to make it look as if they were being lit by the chandelier alone. Don't be afraid to point out cool light fixtures. Your photographer might not be able to use them but sometimes they will be able to make something great with them.
Hanging lights
The best way to make your outdoor receptions look amazing is to add Christmas lights or hanging string lights. At the wright farm in Georgia they hung string lights over their patio. There wasn't much in the background as far as lights so I got on the ground with a long lens and used the hanging lights as a background.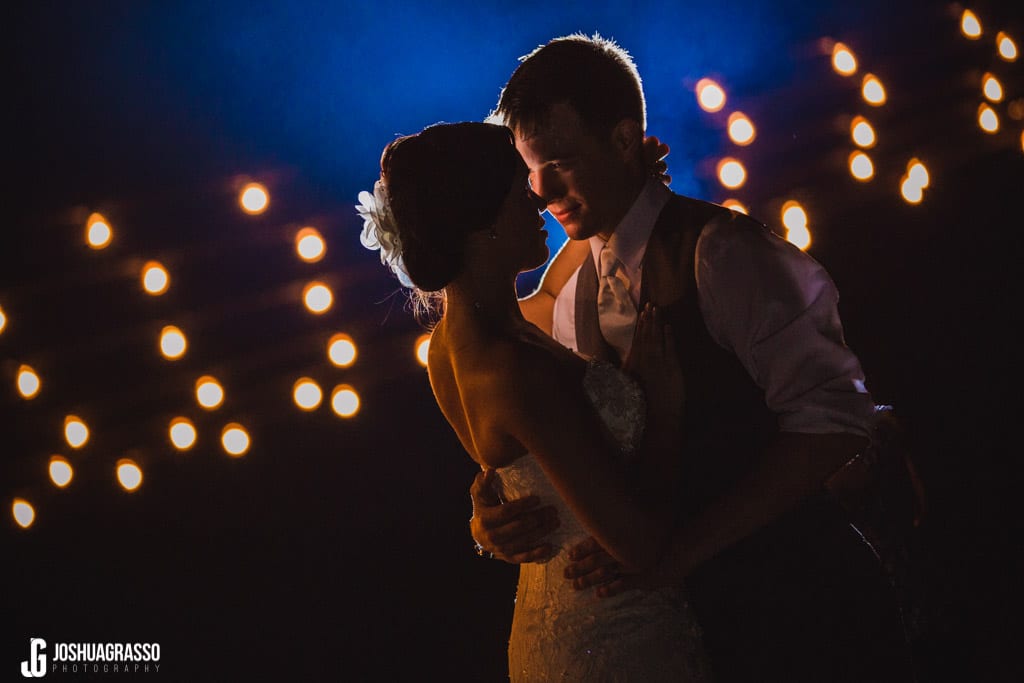 This photo is taken from almost the exact same spot as before with one of the previous couples friends so I didn't want to make the exact same shot. But they loved this spot and I had to get a photo here for them so I used a totally different technique of making a double exposure.The first shot was of the couple who was lit by my assistant and a second shot zoomed in on the lights. The camera combines the two shots together. This is one of the advantages of getting a creative photographer who will be able to get unique images for you even if they've shot at your location before.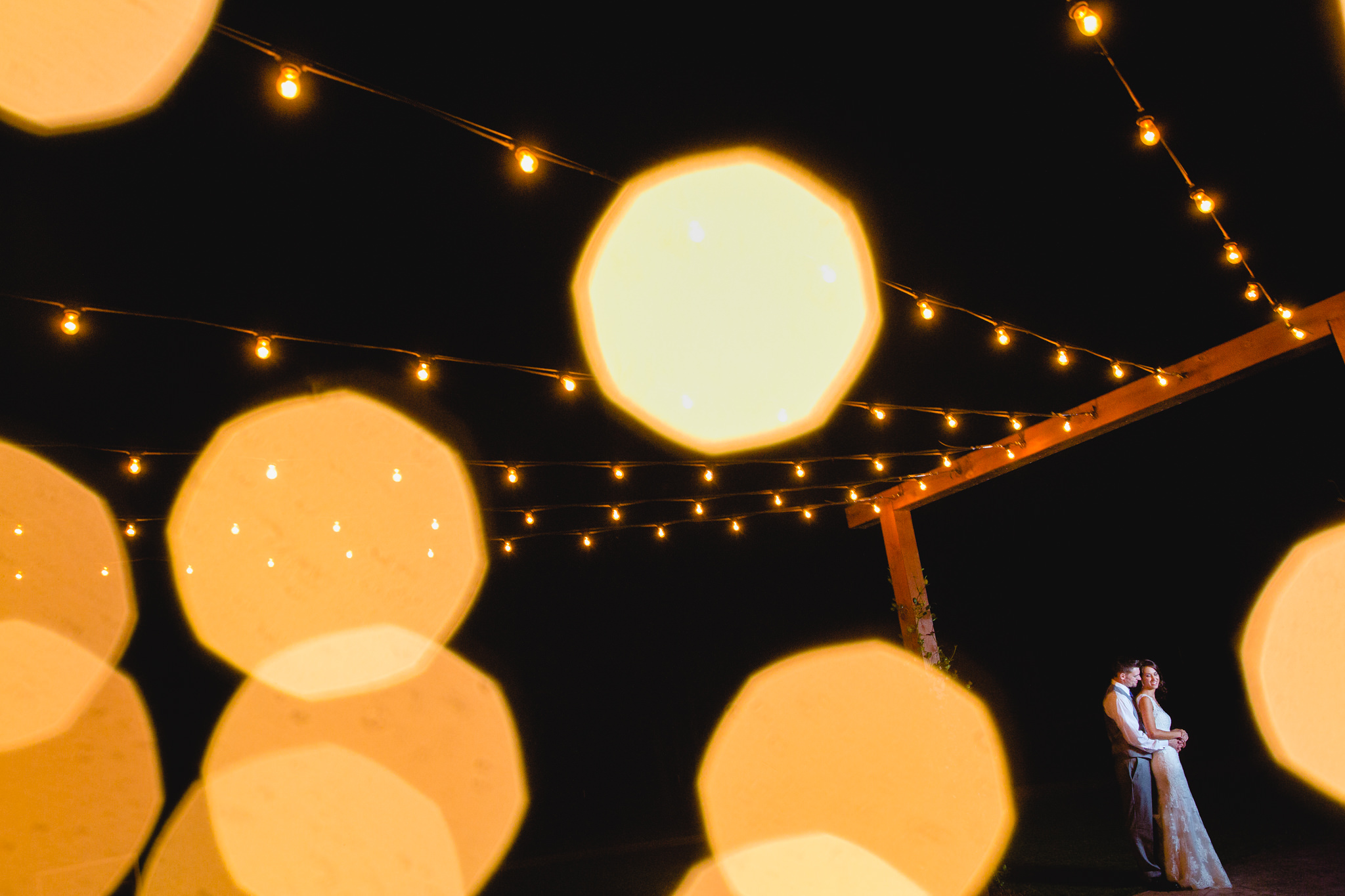 One more Christmas light photo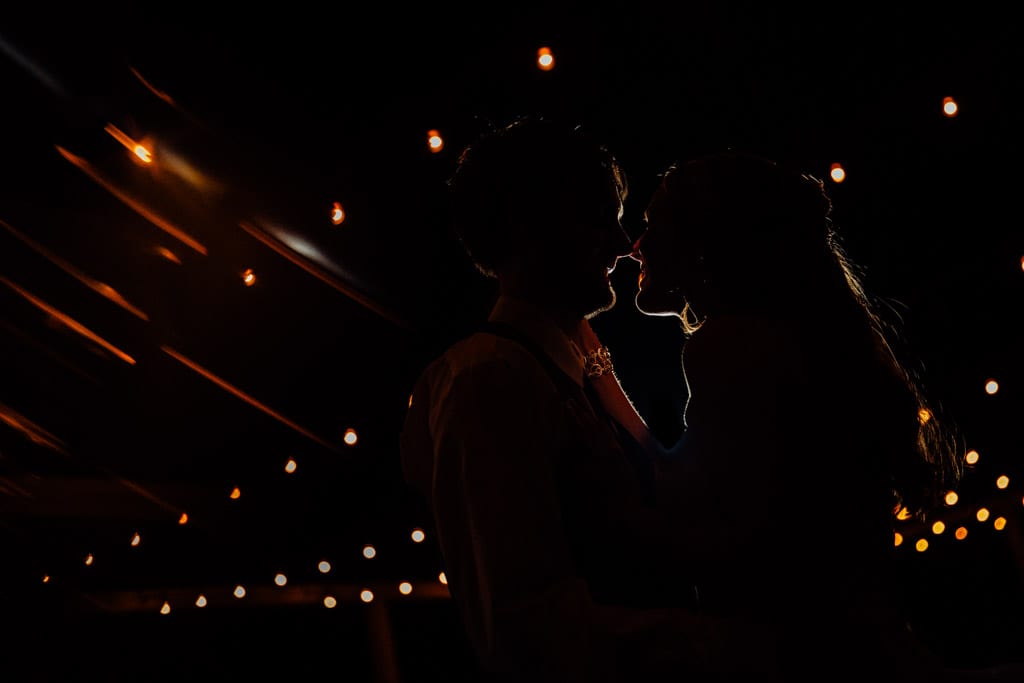 Boring Hallways
So what if its super bright outside and you want some creative night shots? Step inside! All you  need is one small element and you can make something interesting. This church hallway was mostly boring with that weird  textured wall covering and flyers and brochures everywhere. But they had these awesome stained glass shadowboxes. So I darkened the scene only exposing for the shadowbox light and matched the color with a cto gel for the backlight against the wall to create a silhouette.  So don't be afraid to look inside for a location.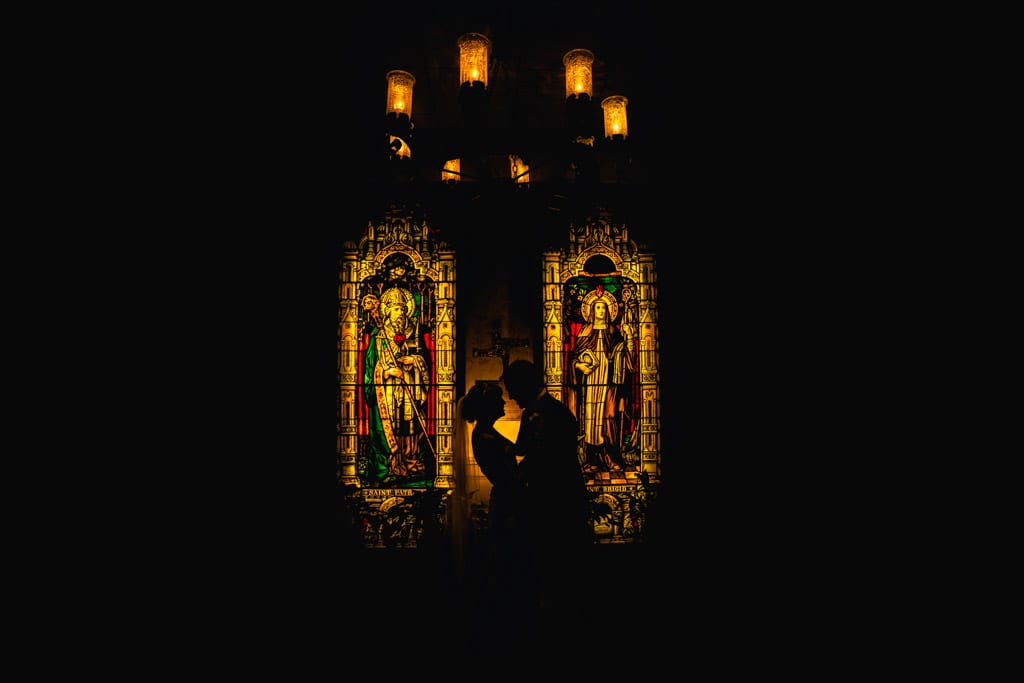 A dark boring hotel hallway allowed for a space to spotlight the bride.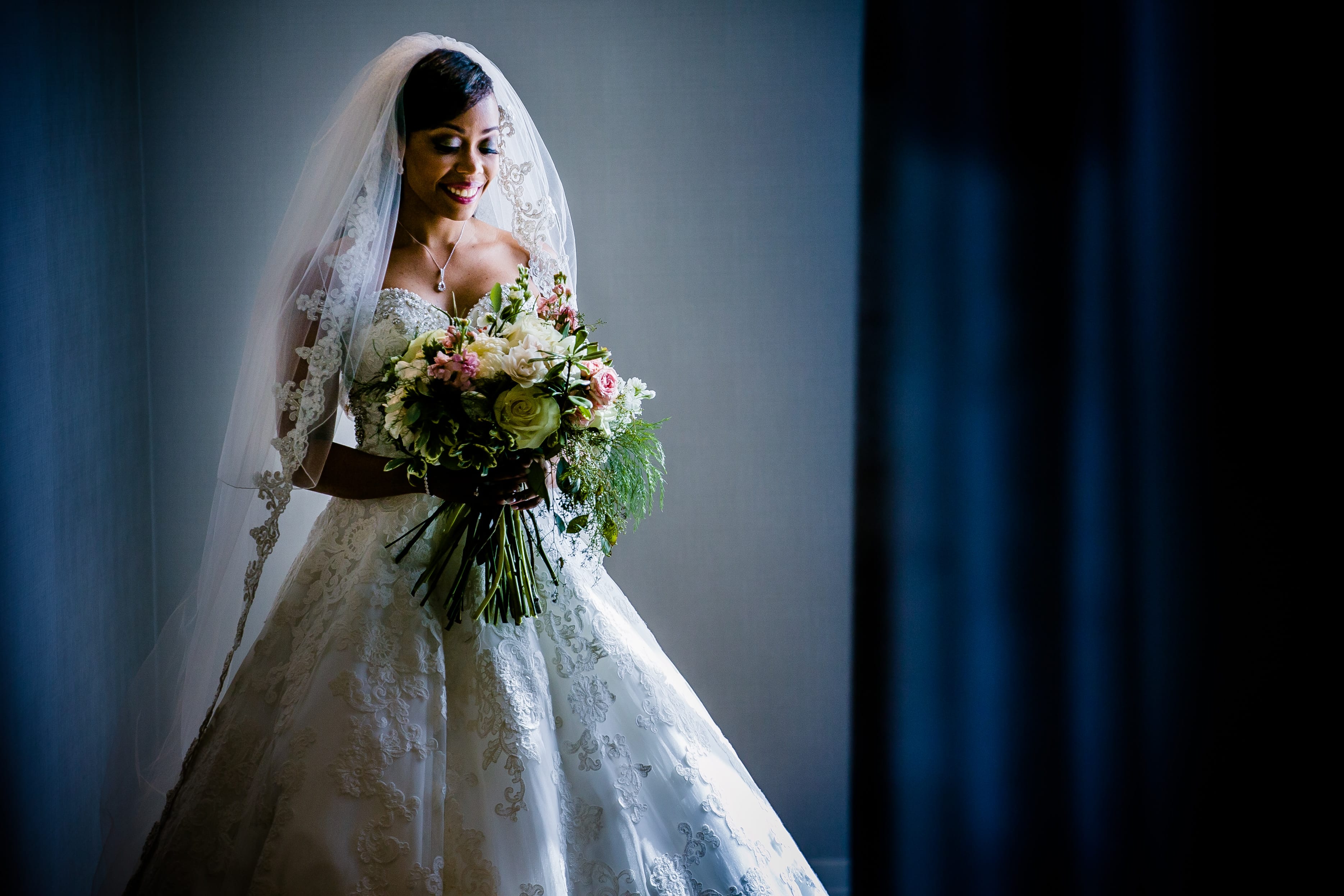 This hotel hallway led to a rooftop doorway. We couldn't go outside because it was raining. So we opened teh door and used the rain.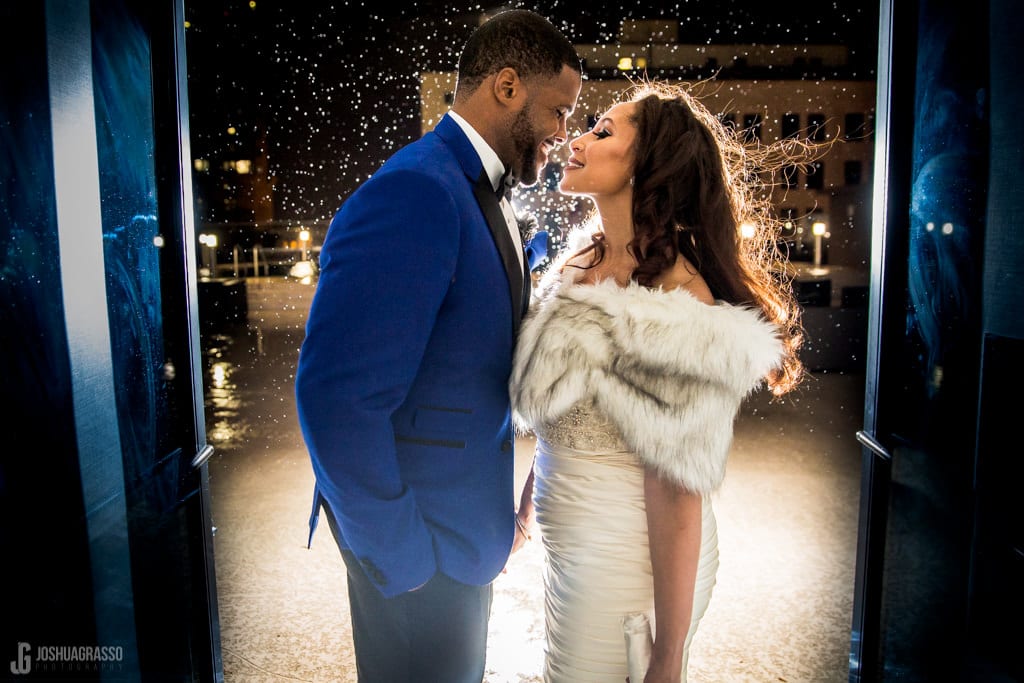 Silhouettes are always a great option
You can always find a space or make a space for a great sillhouette.
Use the lighting outside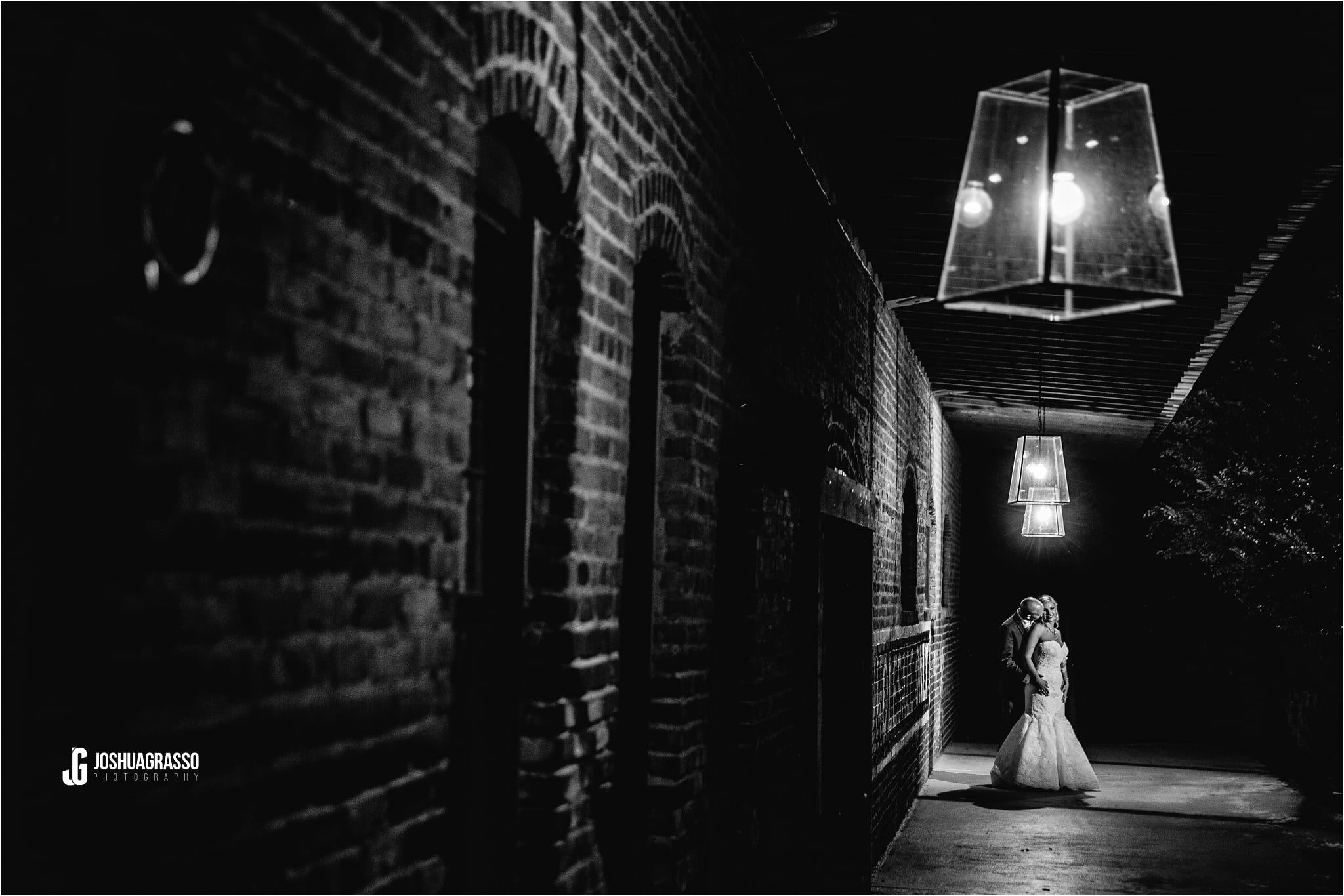 Rooftops are Always Amazing at Night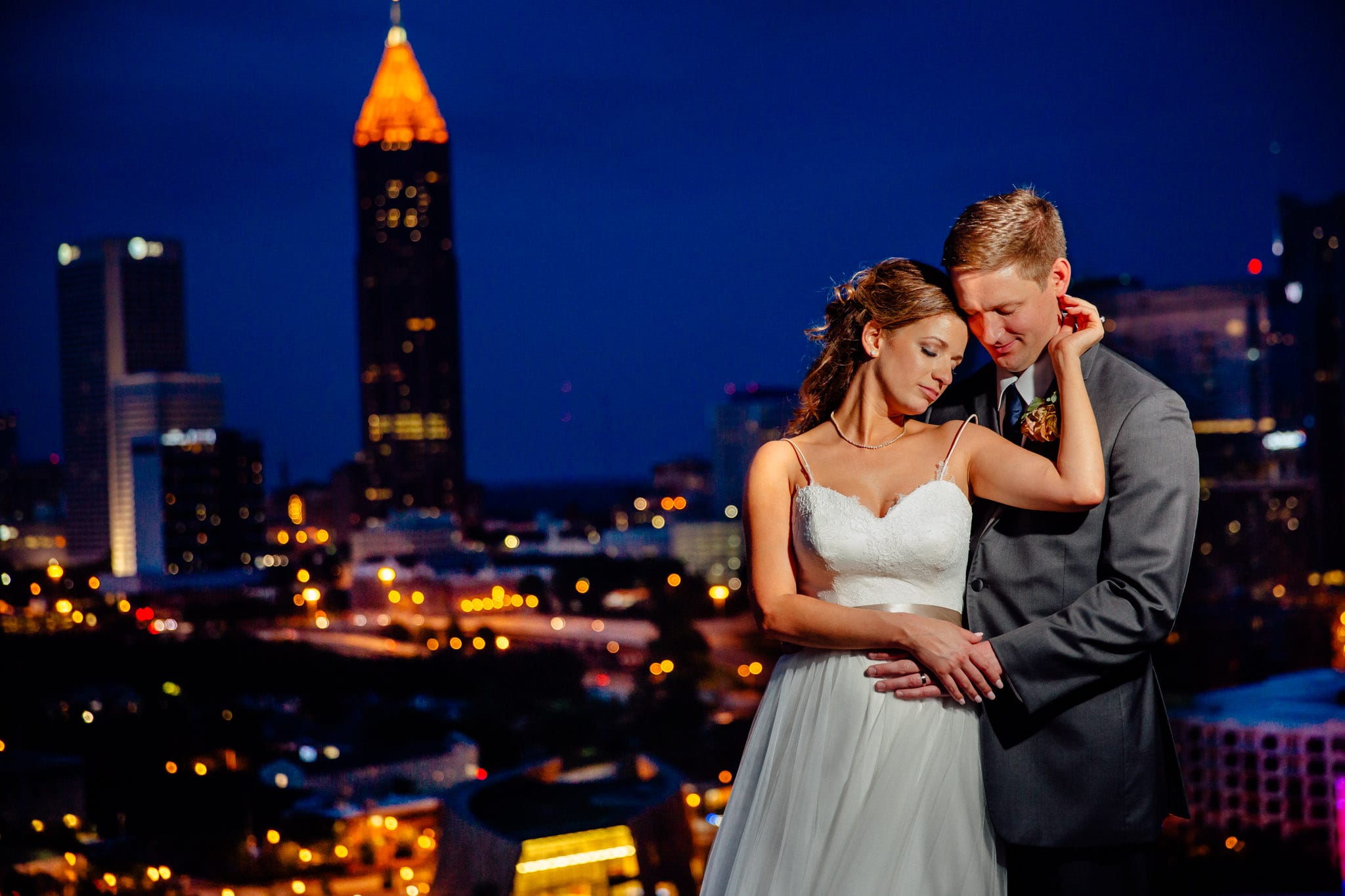 Make Something From Scratch
And the last example actually had nothing in the scenery to use at all. So you get creative with the subjects instead. This is also an example of how meeting with your photographer or at least letting them have a chance to get to know about you and things you like can help them make unique images for you. The groom mentioned he wanted a cool shot with his sunglasses and he also wanted something cool and creative at night. So I got the wheels turning before the wedding and sketched out this idea. Luckily they gave me some time during the reception and we were able to pull it off.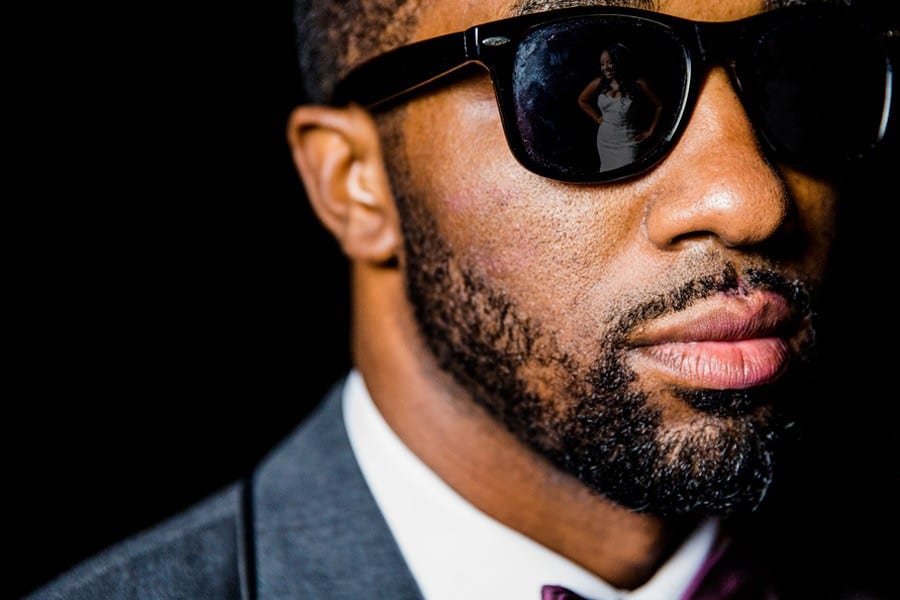 This photo is made from a triple exposure of 3 photos stacked on top of each other. One of the couple in front of a lit up curtain, the second is the Atlanta sky, and the third is the skyline out of focus.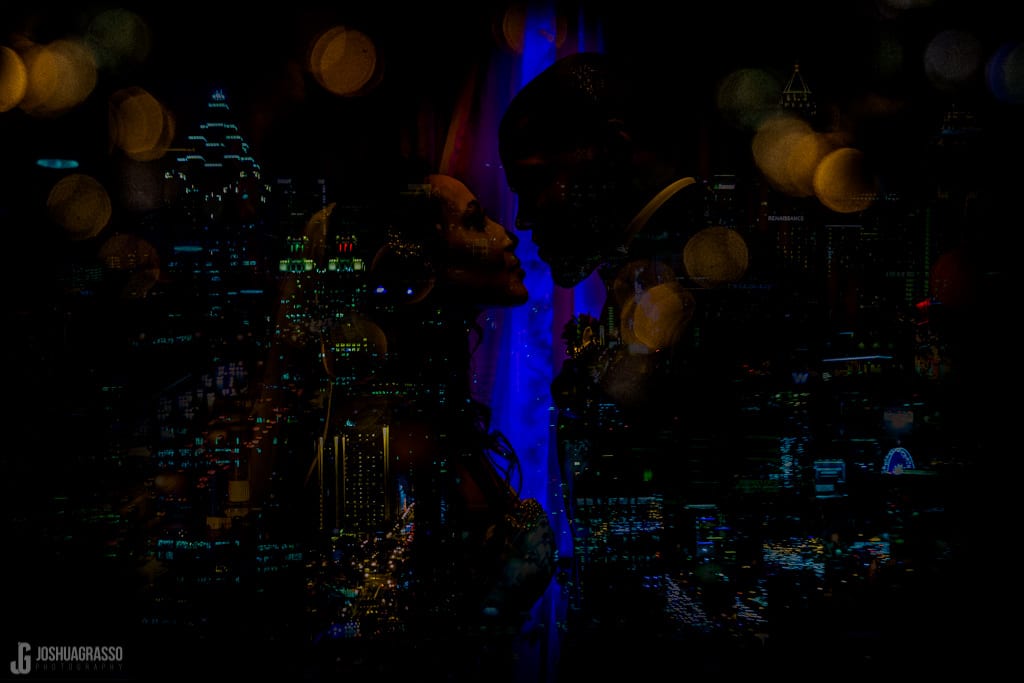 Thanks for checking out these examples of what you can do when the lights go out. So don't be afraid of the dark and find a photographer who isn't either, and you will have some awesome images!
To see more of our work in the future follow us on instagram@ JoshuaGrasso here
To learn more about our  wedding photography go here 
check out our behind the scenes video on Kara and Quade's Awesome time traveling engagement session here. LEARN MORE ABOUT OUR PHOTOGRAPHY